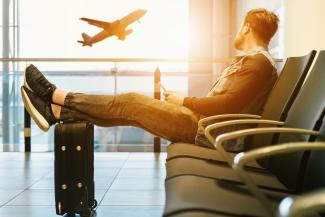 How To Travel Cheap While in College
Traveling in college can be challenging, especially while on a budget. Thankfully, it is not impossible and there are plenty of great ways to see new places while still keeping your budget intact. From planning your trip out well in advance to choosing where and when to eat out, here are some of the most important tips I have learned:
● Planning your trip out ahead of time. Whether you are planning on flying or driving somewhere, the earlier you can plan your trip, the better. Plane tickets get more expensive the closer you are to the date of your flight, but many hotels and other housing options also incentivize you to book earlier.
● Look at all of your housing options. I made the mistake of booking the nicest house I could find because I wanted to experience a luxurious getaway, but that is not always the best experience. Many times, the most fun living situations are those that are not the most expensive. The Airbnb app typically has a wide range of different options that can fit your housing needs while not breaking the bank. An important aspect to consider when looking at housing is checking the distance from your house to where you are going to be exploring. Sometimes the closer you get to your destination the more expensive, but sometimes it is the opposite, and you can save money on your housing as well as your daily travel expenses.
● Bring as many friends as you can. Traveling alone can be a great time, but traveling with friends allows you to share great memories while also saving money. A $150 dollar-a-night house is quite expensive for a single college student, but if you split it with 4 friends it becomes a lot more manageable. Not only can this cut back on housing expenses, but it will also help with gas, food, and whatever else you may split among your friends.
● Bring your own food whenever possible. If you are flying somewhere this can be extremely challenging, but for road trips, bringing food is a great way to save money. Make a meal plan for every day you will be gone and come up with fun and cheap ideas for food. Pasta, and burgers, are great inexpensive meal ideas. Also, breakfast food and frozen foods like pizza and chicken may not be the most luxurious meals, but they are easy to make and can help save you lots of money. Instead of spending $30 on a meal that only feeds you at a restaurant, you can split a $20 meal with everyone you're with and save a considerable amount of money.
● While it is important to bring your own food, it can also be fun to plan out one night where you're going to go out and see what this new place has to offer. A big part of traveling is getting to go out and explore the nice restaurants and venues where you are. You might see lots of fancy restaurants near you, but make sure you check if they have a menu online to see how much a meal may cost. The last thing you want is to sit down to eat and realize everything on the menu is out of your budget. If you are unsure where to eat or can't find places that show their prices online, asking locals can always help. Not only can they show you where you're headed, but they also tend to know the secret spots where you can get great food and have a fun experience.
Traveling in college can be extremely fun but can also be extremely expensive if you don't travel smart. If you plan your trip well in advance you can save a lot of money and allow yourself to take more trips later on.